Renew & Relaunch: How Becoming the Patient Fortified My Journey as The HAPPIest MD
When storms come, I do my best to pray rather than stress my way through to the other side. Instead of asking, "Why me?" I have begun asking myself more and more, "What can I learn from this?" In doing so, I have learned so very much about myself and the many layers I have hidden within me.
Trusting Myself
Somewhere along my journey, I stopped trusting what I know to be true about myself and started worrying far too much about what people think of or feel about me. I have always been someone who could put in the work and make my way through any challenge that lies ahead of me, regardless of how much time or energy it took. However, I reached a crippling point where no matter how hard I tried, I simply could no longer perform at the level to which I had become accustomed. Again, and again, I tried and failed. My body and mind both felt like they were slowly failing me, and I didn't know what to do. Some very special souls loved and respected me regardless, but many of my colleagues have, quite frankly, treated me like I was inadequate or disregarded me all together. Worst part is that, at my lowest point, I almost started to believe the worst about myself too.
Enough was enough, man! I had to trust myself, because I KNEW something was wrong, but I just had not yet figured out what. I mustered the courage (honestly, almost out of desperation) to advocate for myself to take some time off from the hustle and bustle of my high-achieving environment to undergo thorough evaluation. After having made limited progress with seeing multiple therapists, I ultimately ended up connecting with an excellent group of healthcare providers that helped me find answers. I was not inadequate, unmotivated, depressed, or any other label that could have been wrongly placed on me. I had thyroid cancer, and my body had been sending signals that something was indeed wrong. Ultimately, I was incredibly grateful that I finally trusted myself enough to stop and pay attention.
Prioritizing Myself
My cancer diagnosis was certainly a shock, but ironically, it also ended up being a blessing. I have spent so much of my life becoming and now being "the doctor" as well as many other people's "go-to" person…but suddenly, I became the patient and the person in need of some serious help. It was a blessing to learn how to better ask for help and receive it. In my darkest moments, I was reminded of all the light God shines in my life through the excellent people who have served as my support system or advocated for me in any way. I like to think that everything happens for a reason, and I believe there was no lesser diagnosis that could have forced me to stop everything and relearn how to prioritize myself all over again. This journey has taken me through the widest range of emotions I have ever experienced. In the end, one feeling is very clear: I FEEL VERY BLESSED AND GRATEFUL.
I have too many things to be grateful for than I can possibly count. Every morning, my husband and I share with each other something for which we are grateful to God, and I could NEVER run out of things to say! My cancer itself could have been much worse, but we found and treated it, and it has an overall good prognosis. This journey has been tough, but I have never once felt alone or unsupported through it all. It has been difficult to take time away from work, mostly due to my concern for any burdens my absence has placed on my colleagues. However, I have re-invested that time back into myself, and I am confident that such investment will help empower me to better support my colleagues whenever their times of need arise. Like I said, I am blessed and grateful. Dear cancer, (* in my Tupac voice*) I ain't mad at cha! (* singing in my best Danny Boy vocals *) I. AIN'T. MAD. AT. CHA! Because of the blessings you forced me to find, I am now prioritizing myself, reclaiming my health, and fortifying my journey to and through my HAPPIest life. Thank you.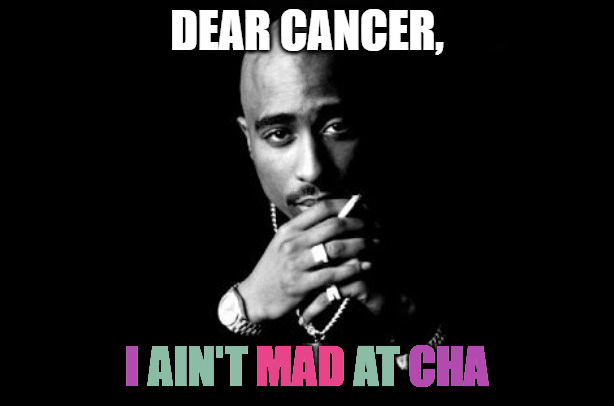 With Renewed Love and HAPPIness,
The HAPPIest MD